A whole new world of Unicorns and magic awaits.
Offered Magic: My Life Among the Unicorns collects in one volume all 126 episodes of the long-running fantasy series first published in Chicago's Grab Magazine under the byline "GRAB Holly. The series – authored by transgender author Holly Maholm – brings magical unicorns together in unexpected and often humorous adventures with multiple LGBTQ+ characters. For the past five years, Chicago's gay, lesbian and transgender community has eagerly followed along with Sassy Pants, Victor and Penelope, Queen of the Unicorns, as they share challenges and humorous outcomes with LGBTQ+ residents of their little town.
Experience the magic of unicorns and the LGBTQ+ community as they take on the evils of the world and show us all how to care and support one another.
Holly – a transgender woman – visits her favorite gay bar, where she meets an adorable (and supernatural) Unicorn named Sassy Pants. Sassy introduces Holly to her fellow Unicorns in the "frolic" and Holly soon makes many new friends – including one handsome stud named Victor!
Thus begins an adventure that introduces Holly to a world previously hidden from her: The world of Unicorns, but also the world inhibited by the LGBTQ+ residents of her little town.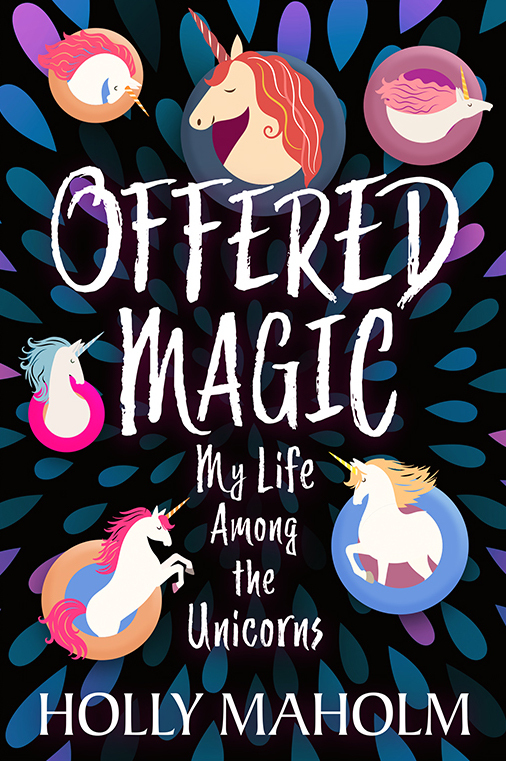 Through her adventures, Holly is accepted into the local LGBTQ+ community, where she befriends others who, like her, live on the fringes of society.
Join Holly as she lives with the Unicorns in the forest, experiencing delightful adventures, late-night parties, humorous pranks and unexpected romance!